Just feast your eyes on these beauties. Alejandro Ortega makes swords from LEATHER that will knock your socks off!
Made By Alejandro
is an Etsy shop that will make kids and adults drool. I am so glad I have been able to get to know Alejandro and want to share his work with you all. I asked him how he got started in working with leather.
Born and raised in the Bronx, NY, my introduction to leather began my junior year of college while taking a theater class. I stumbled upon a Punchinello mask, which comes from an Italian art form called Commedia d'el Arte. The original Commedia d'el Arte masks were made from leather and in studying Commedia I learned a lot about the the use of leather as a medium in art. In 2007 I traveled to Italy to take a Commedia Mask Making Course from Maestro Donato Sartori, and learned the difference between techniques taught in books and techniques actually used. I returned with a bigger desire than ever to pursue my love of working with leather.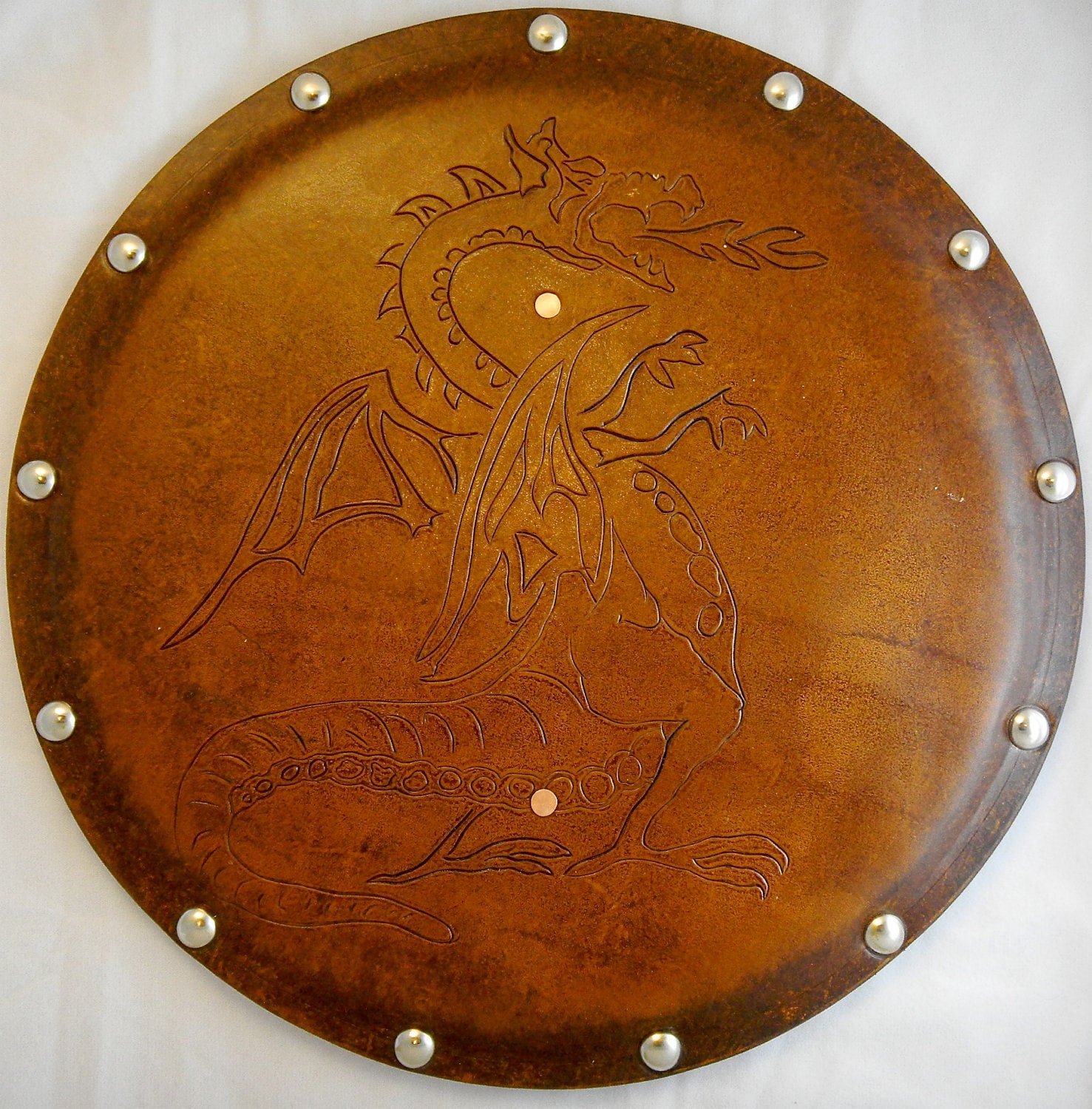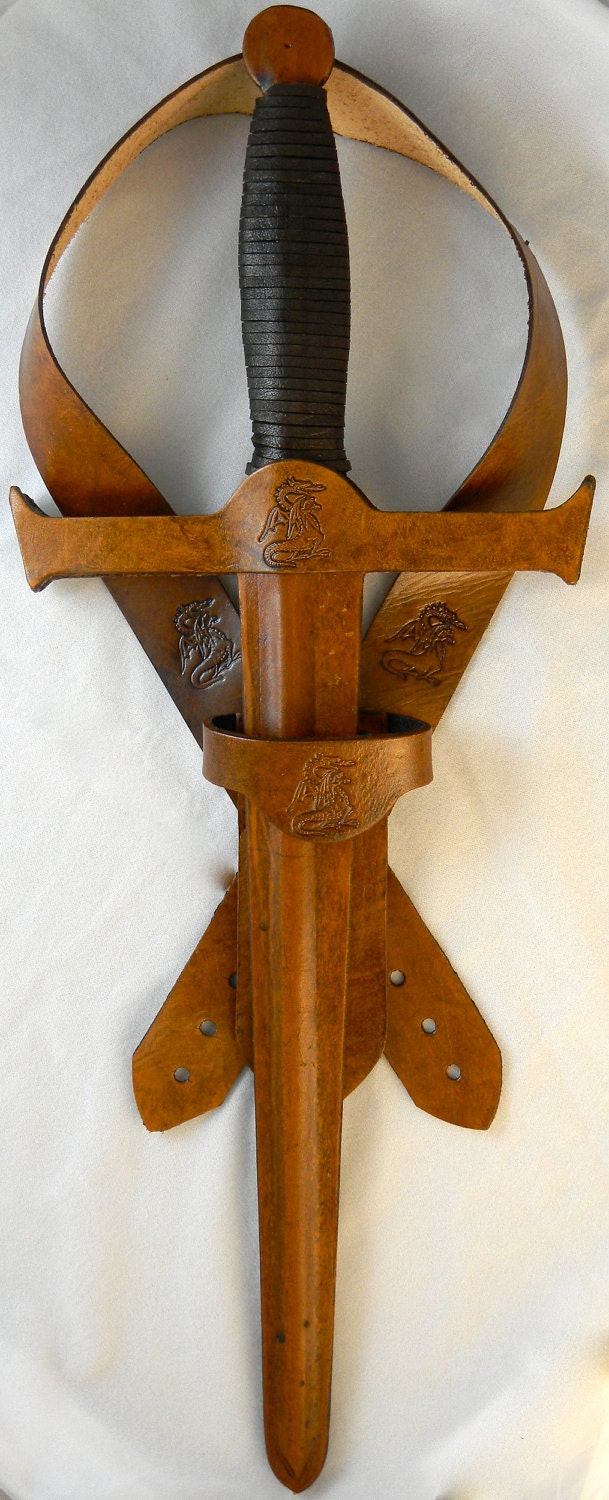 So how did he start making swords, shields, and the like?
Last summer, How To Tame Your Dragon came out in the movie theaters. I had some time and materials on hand, so I decided to make my three children their own swords, shields, and sheaths so they could be real heroes like the kids in the movie. People saw their leather toys and began placing orders, as well as telling others about my creations. My clientele now ranges from children, to adults, to an online toy store, to a local natural toy store. I am now happily making swords, shields, and other things using a material I love that's been around since the caveman: leather.
I know Zach has used the heck out of his set. He loves the way the sheath is adjustable so you can wear it around your waist or across your chest. He adores the shield and the way it's made so strong it can take blows from big kids with wooden swords. And of course he covets that leather sword, I think he appreciates how special and beautiful it is as much as he loves just swashbuckling it around night and day.
What's that you say? You don't have any aspiring pirates, knights, ninjas, or vikings in your home? Fear not! Made By Alejandro also makes these adorable leather elephants.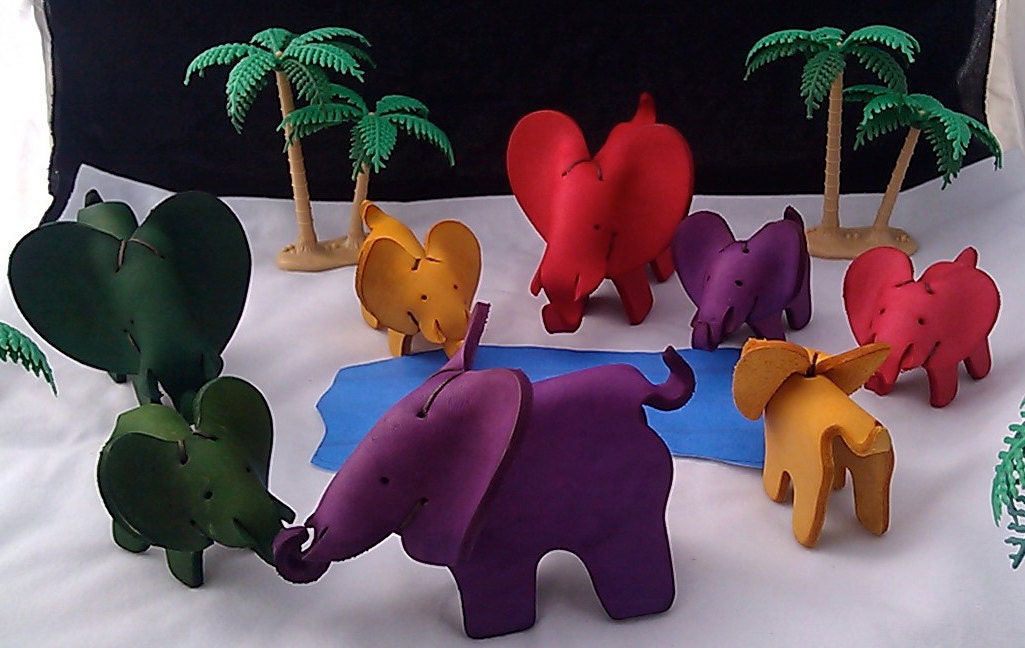 A pair of leather elephant key chains are the first part of this giveaway. Since elephants are social creatures who mate for life, Alejandro decided it was important to keep these two together. Just leave a comment below for a chance to win. They would make a great gift and if you have a baby who likes to play with your keys this is a nice, safe way to keep their little hands busy (all of his dyes are water based and eco-friendly.)
But wait there's MORE! (I've always wanted to say that) Alejandro is very generously offering this leather sword and sheath set pictured below.
Again just leave a comment here telling us what you like in the shop to win. For an extra chance at either item, please head over to Made By Alejandro's Facebook page and LIKE, then come back here and leave another comment telling us you did. ALL entrants must leave an email address! Entries will be open until Friday night October 28 at 8pm eastern.
But wait there IS even more!! From now and through the entire month of November you can get 15% off your total order with Made By Alejandro by using the code "zachaboardnov2011". Perfect for the holidays! Spread the word!
Thank you so much Alejandro!


And the winners are: The pair of elephants goes to CHANI!!!
And the sword & sheath set goes to: MARY!!!


I will email each of you separately for shipping info. Congratulations and thank you to Made By Alejandro.
Don't forget, the discount code above is still good for the entire month of November. So pass it around and place your holiday orders!